Welcome to Black Dog Custom Rods (BDCR) !
LOCATION: 812 SE POPE AVE, WILBUR, WA  99185
MAILING ADDRESS: PO BOX 398, WILBUR, WA 99185
NOTE: If mailing a rod to us for repairs, please note on the container "No Conveyor"…otherwise, you run the risk of the conveyor bending/breaking the rod.
New visitors: you are invited to browse through the site or choose any of the active links to go directly to your area of interest.
Need of restoration or reconditioning (see info below)

Broken or damaged rod needing repair? (see info below)
Returning visitors and clients: thank you for your interest and past patronage. Please proceed directly to your desired service. We look forward to being able to assist you again.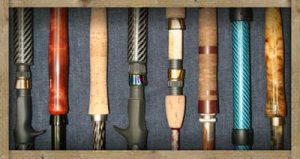 Thank you for visiting our site. We appreciate your interest and the opportunity to provide the services you require. We hope the information provided is both useful and helpful. If you have questions or comments you would like to share, contact us directly at 208-699-5893, via email or use the Customer Contact Form
---
BDCR provides a variety of custom rod building services for individuals, groups and companies. We also provide restoration and reconditioning services for vintage rods and repair services on broken or damaged rods. BDCR offers the following specific services:
Custom rod design and building

 – we design and build all types of fishing rods working in steel, wood, bamboo, fiberglass and graphite. We specialize in fly rods, but regularly build spey, casting, spinning and special purpose rods of all types. If you have a need or desire for a custom designed and built rod, contact us via email or the Customer Contact Form. We will work with you to create the rod, or rods, you require.
Professional Angler Rods 

– BDCR builds rods for professional fly fishing tournament anglers, professional bass tournament anglers and professional fishing guides. Individual anglers engaged in these pursuits typically require higher quality, precision built, special purpose rods to assure success in their ventures. The same design and build techniques are used on all rods custom built for any angler to assure each new owner of a Black Dog Custom Rod uses the best possible rod available today.
Private label rod building

 – we design and build private label rods for commercial clients. Your name and logo go on the rods created to your needs and specifications. We produce small batches and weekly or monthly production runs to match your sales and inventory requirements. Contact us via email or the Customer Contact Form to discuss your needs.
Vintage rod restoration

 – we provide complete restoration services for your vintage rod. Antique rod restoration is often a time consuming effort as the search for original components and researching original techniques is required prior to restoring the rod. We have been fortunate in our past projects to amass a variety of reference material and contacts to aid in restoration efforts.

Reconditioning vintage and used rods

 – we do a number of reconditioning projects each year returning well used and antique rods to fishing condition. This work differs from restoration in that the goal is to return the rod to use as opposed to a complete restoration to as new condition. We may substitute the occasional component or utilize modern techniques in the reconditioning effort.
Repair of broken and damaged rods

 – broken and damaged rods can be repaired regardless of what material they are constructed from unless the damage is simply so severe a new blank or rod section is justified. Repair costs are typically reasonable and a repaired rod continues to perform well for many years. A favorite rod or one to which you have some sentimental attachment can normally be returned to use with the proper repair(s).
Our photo gallery

 contains examples of our various services.

If we can be of assistance to you in any of these categories, please contact us via email or the Customer Contact Form. We would be happy to help determine your requirements and develop a solution with you to satisfy your needs.